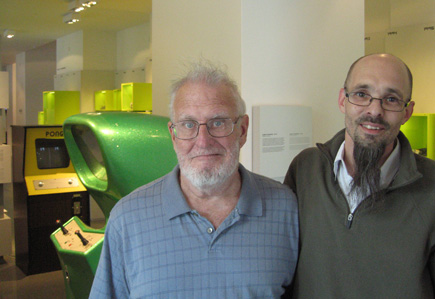 John "Captain Crunch" Draper and Oliver from myoldmac.net
at Computer Gaming Museum Berlin | May 29, 2012

International Buyers Welcome!
As more time goes by since the release of older computers, it gets harder to find hardware compatible with your vintage device. Older parts are much harder to track down. Here you will find those rare and vintage Computer items you have been looking for.
At myoldmac.net you find Apple II // ][ 2, Lisa, Macintosh: Macintosh SE, Mac SE/30, Macintosh Plus, 128k, 512k, Mac Classic Colour, FDHD, LC, LCII, LCIII, Commodore-Amiga and various 8 and 16 Bit Computer like ATARI. Have fun perusing the offered items, you will surely find something for your museum.
Deutsch: Hier finden Sie die historischen Computer nach denen Sie lange gesucht haben. Bei myoldmac.net finden Sie zum Beispiel Apple und Macintosh, Atari, Amiga, Tandy, Texas Instruments, Z80, Z81, Sinclair, Commodore C-64, C-128, Robotron und weitere.
---
As a serious collector, I follow the Classic Computer Collector's Code of Conduct (CCCCC).